Family Home Evening Assignment Boards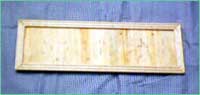 (1) The scrap wood can be any size you desire. We used a 15 1/2 inch across by 7 inches down.(DEAL DIVA TIP: Sometimes you can find scrap wood and plywood in the dumpster behind hardware stores or lumber yards. All you have to do is ask.)(2) Cut the molding to the proper size and miter the ends, using a miter saw, for a clean picture frame look.(3) Nail to the outside edge of the board with small nails. If you're worried about splitting the board, you can pre-drill the nail holes.
No miter saw? Not a problem:
If you don't have a way to miter the ends, try butting the ends together instead. It doesn't leave as clean a look, but is still nice. You could also try gluing a small wood ball or heart in each corner and fit the molding up to the corner decoration. (Crafty Chic used this technique in our Homework Board, when we didn't have access to a miter saw.)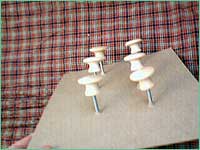 4) Measure out the distance needed to place the knobs evenly across the board. The sample board used six knobs. Use more or less according to your needs. The knobs will stand for the duties at your FHE, i.e.: lesson, song, treat, etc. Drill the holes.
(5) To create the antiqued effect, we will paint and then stain the board and knobs. We recommend using a lighter paint color that will allow nice contrast between the paint and stain. (Darker paint colors don't always allow the stain to show.)
We chose Maple Sugar Tan by Ceramcoat for our paint.
Paint the board and the molding remembering the edges.
(CRAFTY CHIC TIP: To paint the knobs you may want to poke the screws through a piece of cardboard and then screw the knobs down a few threads until they are stable. Try painting them in this position. It is easier to get to all sides with out getting messy and having to only paint a portion at a time.)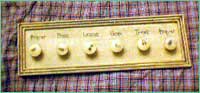 (6) With a dark, contrasting color, paint the titles you wish to use above each knob: prayer, snack, etc.
(7) Now it's time to distress the wood. When the paint has dried, sand the edges and the face of the board. Do this as much or as little as you would like, depending on how much distress you like. Do the same with the knobs. A good rule of thumb for distressing is to sand down the areas that would have gotten the most use. The edges, the corners, and any area where the object would see the most handling or use.
(8) Wipe away any dust from sanding, and get out the stain. We used Minwax dark walnut stain/sealer for our project. Wipe on the stain with an old rag, and then wipe off the stain with a clean one. You don't need to leave the stain on for a long period of time, just be sure you get into all the cracks and crevices. When wiping, don't wipe out the stain from the grooves and dips. This gives it a more worn and weathered look. Let dry overnight.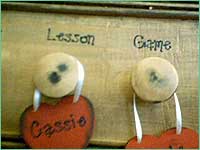 (9) Screw the knobs into place. You may need to place a screwdriver into the screw back while you twist the knob.
(10) Paint the wooden hearts with a base color. We used Tomato Red by Ceramcoat. Using a liner brush and a contrasting color like black, paint the names of family members on the hearts.
(11) Sand and antique the hearts as above.
(12) Drill two small holes on either side of the top of each heart. String the ribbon through to make a loop and knot at the back of heart on both sides.
(13) Hang the FHE board with some wire attached to the back or with a picture hanger.
Your FHE board is ready to be used.
I have been seeing so many cute ideas for Family Home Evening charts all over the internet! FHE charts make great Christmas gifts, and getting a new one for your own family can help to liven things up and make everyone excited to rotate jobs for FHE again. I've collected all the best ideas for you to choose from, just in time to make or buy a new one for Christmas this year! Enjoy!
Liahona FHE Chart
I think this first one is my favorite. And it's super easy because you can just order it instead of having to make it yourself! You can request it with anywhere between 4-8 family member spots without having to double up the names.
from Bang Fabrication
Photo FHE Chart
Here's a fun one that is a photo of your family mounted to a magnetic or metal board. The FHE assignments are printed onto magnets to switch around on to each person.
from Delia Creates
Ceramic Tile FHE Chart
This one is so cute and creative. It's made from ceramic tiles that are painted, and then the jobs are written on with dry erasable markers.
from Sassy Styles
Printable FHE Chart
Here's an easy, free printable one. She offers options for 4-8 family members.
from A Year of FHE
Plate Rack FHE Chart
The person who designed this one does not seem to have a blog. She just created this, took a picture of it, and pinned the photo to Pinterest. Luckily, I was able to find her on Facebook and message her to get permission to use her photo on my blog. She gives some instructions for how to make this chart in the comment on her pin. I think you could also use ceramic plates and paint on them.
from Jamie Jueschke
Printable Ice Cream FHE Chart
Here's another super cute free printable chart. I love how when you double up on assignments, you get a double scoop of ice cream!
from MM Printables
FHE Dice
This one is different: Roll the dice to see who does which job! These can be purchased from their website.
from Say It On the Wall
Chalkboard FHE Chart
Not only would this one make an attractive decoration in your home, but it's fun that the kids can use chalk to write their own names on the board.
from Gingersnap Crafts
Quilted FHE Chart
If you're good at sewing, you could make this adorable FHE chart. Each person's name is on a little stuffed heart that Velcro's on to the board.
from Be Creative with Amy
Magnetic Monogrammed FHE Chart
And, finally, this monogrammed chart can be made by framing a piece of sheet metal. Move the pictures of family members around to the different jobs.
from Decor Allure
Aren't these all wonderful ideas?
Which one will you choose?
Category: games/activities | Tags: Chart, Things to Make