Differentiated Homework For Kindergarten
My first year teaching Kindergarten also happened to be the first year that I had ever assigned homework to students. You see, before I began teaching Kindergarten, I taught Pre-K. In Pre-K, we did not give homework.
When I moved up to Kindergarten, I had big dreams about the homework I would assign. I'd give out exciting and engaging assignments (never worksheets). I'd provide families with fun learning games that would bring them together. I'd send home different homework for different students, differentiating assignments based upon their needs. I was going to make homework an enjoyable and productive part of my students' home lives!
And then…reality hit. My first year teaching Kindergarten, I had an extremely challenging class. After an 8 hour school day with my kiddos (yes, you read that right – those 5 and 6 year olds were at school for 8 hours a day), I was exhausted. I could barely manage to get materials ready for the next day, much less find or create engaging homework activities.
And differentiation? Yeah, right. That year I had students who couldn't read a Level A book, and other students who were reading beginning chapter books. I would have been up all night trying to get together 25 different homework assignments!
Needless to say, my grand homework plans didn't exactly happen.
As the years went on, I slowly assembled a collection of activities to send home. I found and made games, activities, and worksheets to give my students meaningful practice opportunities.
But it still took a good bit of time each week to assemble my weekly homework packet. I only believe in assigning about 10 minutes of homework a night, so you'd think it'd be quick to pull together, but it wasn't!
I was eventually able to differentiate homework some of the time, but not as often as I wanted to. I really wanted a set of engaging materials – with a lot of different options – that would make it easy for me to assign and differentiate homework for my kiddos.
And then, about 9 months ago, I decided that it was finally time to make the set of materials I'd been dreaming of!
My goal was to create literacy homework for Kindergarten that met the following criteria:
Engaging
Easy to differentiate (leveled, so that a teacher could use a student's guiding reading level to pinpoint phonics and other reading activities appropriate for that student)
Clear for parents to understand (with written instructions, visual aids, and videos)
Accessible for both English- and Spanish- speaking families
Suitable for students who have family help and for students who do not have family assistance
I had these goals in mind because I've seen kids fail to complete their homework for many different reasons. The homework may have been too hard or too easy, parents may not have understood the directions, students may not have had family help at home, etc.
And I knew I wasn't alone in my homework struggles – I've never met a single teacher who found it easy to get all of their students to do their homework (even though Kinders are usually super enthusiastic learners!). Homework can be helpful and fun for our little learners, but there are so many challenges to assigning quality homework and then getting it back.
While creating my literacy homework series, I came up with some ways to overcome homework-related obstacles. In this post, I'll share with you the solutions I've found to various challenges. Be sure to download all of the freebies, too!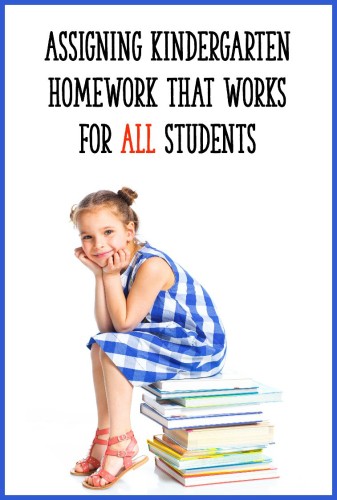 Challenge: My kids don't have the supplies they need at home to complete their homework.
Solution: Survey families about their needs several times throughout the year, and provide a take-home bag of school supplies.
The more information we have about students' home situations, the better! Click on the image below to download a free parent survey (in English and Spanish). This survey will give you information about what supplies families have at home. If you're worried about not getting the survey back, why not have parents fill it out during Back to School night or another school event that most parents attend?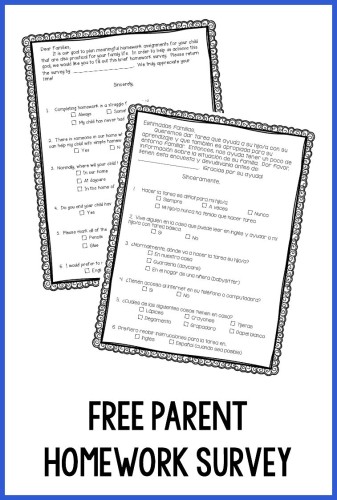 Once you know what supplies students do and do not have, you can do several things. First, you can prepare take-home bags of supplies that students leave in their backpacks.  Local churches and libraries will often hold school supply drives – if you are in need of duplicate supplies to send home, just ask around!
Another option is to be selective about the homework assignments that you give, sticking to assignments that don't require many supplies. This doesn't mean that your assignments have to be boring, however! There are lots of interactive activities that kids can do with a paper and pencil.
For example, check out this "Super Tic-Tac-Toe" game (download it below). A parent and child take turns "claiming" a space by saying the name of the alphabet letter inside it, and then tracing the missing upper or lowercase letter. Play continues until one person has claimed five spaces in a row. Two different colored pens or pencils are needed- no cutting, pasting, or coloring required!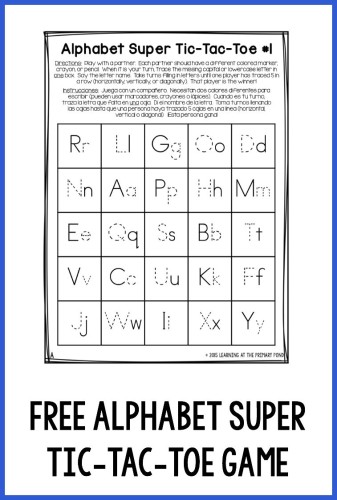 A third option is to give different homework assignments to different kids, depending upon what supplies they have at home. This takes a little time, but my Kindergarten Homework series makes it easy.
For example, to have students practice determining whether pairs of words rhyme, you could send home a) Rhyming Memory or b) a "Rhyming Or Not?" worksheet. Both activities address the same skill, but the memory game requires cutting while the worksheet does not. Download the activities below.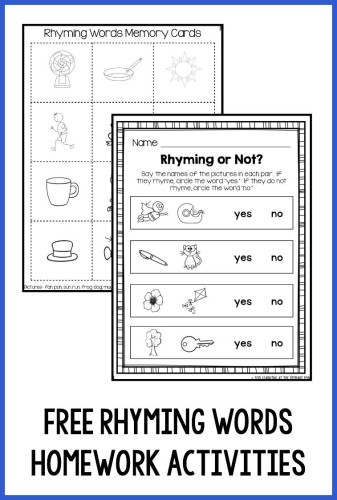 Challenge: The kids in my class have very different needs, but it takes way too long to differentiate homework.
Solution: Keep a file folder for each child with activities appropriate to the student's skill level. Quickly pull an assignment from the folder when you want to differentiate.
The photo below shows the "Homework Folder" concept in action: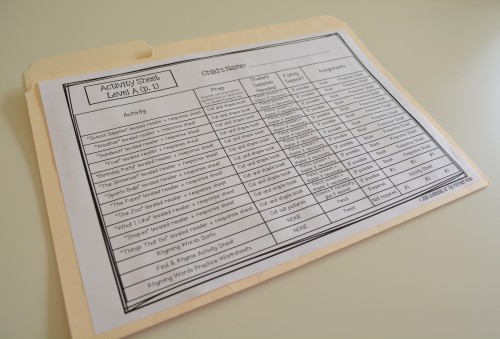 On the outside of the folder is a list of the activities that are at the student's level. All of the literacy activities on this particular list are designed for students whose instructional reading level is a Guided Reading Level A.
Inside the folder are copies of all of the activities on the list. To differentiate homework, just grab an assignment for each child from his/her folder. So quick and easy – and you don't have to do it for every single assignment.
Challenge: I can't seem to get out of the "worksheet rut" when assigning homework!
Solution: Create a weekly "formula" for your assignments. For example, in Kindergarten, you might assign 1 leveled book, 2 family games, and 3 worksheets per week. If you stick to that routine, then you'll be less likely to rely only on worksheets for your homework assignments.
And if you use my Kindergarten literacy homework series, then you'll have leveled books, family games, and worksheets at your fingertips. There's no need to waste time searching online or in reproducible workbooks each week!
Challenge: My students' parents are often confused by homework assignments. Some of them don't read English, so they don't understand the directions.
Solution: Send home assignments that have simple, predictable directions. Spend some time in class teaching students how to complete homework, so that they can teach their parents. Provide visual directions or directions in parents' native languages whenever possible.
Below is an example of a homework assignment that has simple and predictable directions. These sight word sheets have students reading the word, tracing it, writing it, and reading it again in a sentence.
Each time, the instructions are the same – only the sight words and sentences vary between worksheets. Even if parents can't read in English, students will be able to complete these assignments if you show them how to do it in class.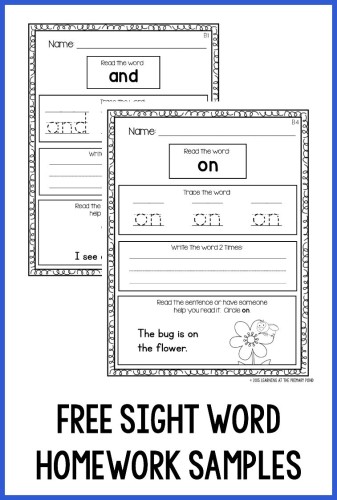 Another solution is to provide visual aids in your directions, as well as instructions in both English and Spanish. All of this definitely takes a lot of time to put together, but if you use my Kindergarten homework series, the work is done for you!
In my pack, each book and assignment (with the exception of simple worksheets), comes with 5 different options for parent direction sheets. You can choose written instructions with or without visual aids, as well as directions in English or Spanish.
All parent sheets also come with links to videos that parents can choose to watch. The videos explain the activities and give helpful hints, but families can also just read the written directions if they prefer.
Click here to download a sample book and the accompanying parent directions sheets.
Challenge: I want to give my students family games and interactive activities. But not all parents are able to help out with homework.
Solution: Try your best to involve all families, but if you know that a child has to complete homework on her own, send activities that she can do independently.
When creating my leveled literacy homework series, I designed two types of activities for each skill: family games or activities that require parent support, and worksheets that students can complete independently.
The rhyming words activities (scroll up) are an example of this. The Rhyming Word Memory game is played with family members, while the worksheet can be completed independently (if students are given the directions at school).
It can be tempting to just send home worksheets with all students if some parents can't help out with homework. But many parents really appreciate interactive materials like family games. If you have a variety of activities available, you can select homework assignments based upon students' individual home situations.
I hope that this post has given you some fresh ideas for preparing homework for your students! Finding materials can be time consuming, but I've seen my Kindergarteners benefit greatly from just 10-15 minutes of homework each night. And parents love the opportunity to be involved in their children's learning!
To read more about my leveled literacy homework bundle, click here. You can also click on any of the images below to learn more about the homework activities for Guided Reading Level A, B, C, D, or E.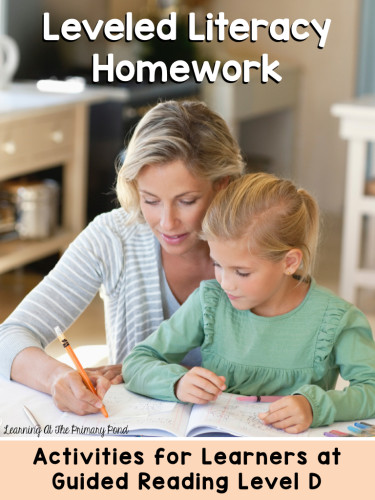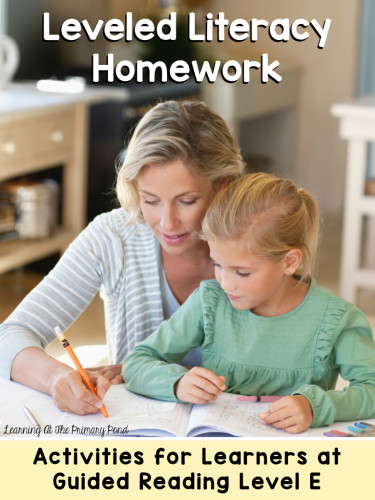 Happy teaching!

What Is differentiated instruction?
Differentiated instruction, also called differentiation, is a process through which teachers enhance learning by matching student characteristics to instruction and assessment. Differentiated instruction allows all students to access the same classroom curriculum by providing entry points, learning tasks, and outcomes that are tailored to students' needs (Hall, Strangman, & Meyer, 2003). Differentiated instruction is not a single strategy, but rather an approach to instruction that incorporates a variety of strategies.
Teachers can differentiate content, process, and/or product for students (Tomlinson, 1999). Differentiation of content refers to a change in the material being learned by a student. For example, if the classroom objective is for all students to subtract using renaming, some of the students may learn to subtract two-digit numbers, while others may learn to subtract larger numbers in the context of word problems. Differentiation of process refers to the way in which a student accesses material. One student may explore a learning center, while another student collects information from the web. Differentiation of product refers to the way in which a student shows what he or she has learned. For example, to demonstrate understanding of a geometric concept, one student may solve a problem set, while another builds a model.
When teachers differentiate, they do so in response to a student's readiness, interest, and/or learning profile. Readiness refers to the skill level and background knowledge of the child. Interest refers to topics that the student may want to explore or that will motivate the student. This can include interests relevant to the content area as well as outside interests of the student. Finally, a student's learning profile includes learning style (i.e., a visual, auditory, tactile, or kinesthetic learner), grouping preferences (i.e., individual, small group, or large group), and environmental preferences (i.e., lots of space or a quiet area to work). A teacher may differentiate based on any one of these factors or any combination of factors (Tomlinson, 1999).
How is it implemented?
Implementation looks different for each student and each assignment. Before beginning instruction, teachers should do three things:
Use diagnostic assessments to determine student readiness. These assessments can be formal or informal. Teachers can give pre-tests, question students about their background knowledge, or use KWL charts (charts that ask students to identify what they already Know, what they Want to know, and what they have Learned about a topic).
Determine student interest. This can be done by using interest inventories and/or including students in the planning process. Teachers can ask students to tell them what specific interests they have in a particular topic, and then teachers can try to incorporate these interests into their lessons.
Identify student learning styles and environmental preferences. Learning styles can be measured using learning style inventories. Teachers can also get information about student learning styles by asking students how they learn best and by observing student activities. Identifying environmental preferences includes determining whether students work best in large or small groups and what environmental factors might contribute to or inhibit student learning. For example, a student might need to be free from distraction or have extra lighting while he or she works.
Teachers incorporate different instructional strategies based on the assessed needs of their students. Throughout a unit of study, teachers should assess students on a regular basis. This assessment can be formal, but is often informal and can include taking anecdotal notes on student progress, examining students' work, and asking the student questions about his or her understanding of the topic. The results of the assessment could then be used to drive further instruction.
What does it look like for reading?
Differentiation strategies applied to reading can be designed to help students learn a range of skills including, phonics, comprehension, fluency, word prediction, and story prediction. The chart below offers a variety of strategies that can be used.
Strategy

Focus of Differentiation

Definition

Example

Tiered Assignments

Readiness

Tiered assignments are designed to instruct students on essential skills that are provided at different levels of complexity, abstractness, and open-endedness. The curricular content and objective(s) are the same, but the process and/or product are varied according to the student's level of readiness.

Students with moderate comprehension skills are asked to create a story-web. Students with advanced comprehension skills are asked to re-tell a story from the point of view of the main character.

Compacting

Readiness

Compacting is the process of adjusting instruction to account for prior student mastery of learning objectives.

Compacting involves a three-step process:

(assess the student to determine his/her level of knowledge on the material to be studied and determine what he/she still needs to master;
create plans for what the student needs to know, and excuse the student from studying what he/she already knows; and
create plans for freed-up time to be spent in enriched or accelerated study.

A student who can decode words with short vowel sounds would not participate in a direct instruction lesson for that skill, but might be provided with small group or individualized instruction on a new phonics skill.

Interest Centers or Interest Groups

Readiness
Interest

Interest centers (usually used with younger students) and interest groups (usually used with older students) are set up so that learning experiences are directed toward a specific learner interest. Allowing students to choose a topic can be motivating to them.

Interest Centers: Centers can focus on specific reading skills, such as phonics or vocabulary, and provide examples and activities that center on a theme of interest, such as outer space or students' favorite cartoon characters.

Interest Groups: For a book report, students can work in interest groups with other students who want to read the same book.

Flexible Grouping*

Readiness Interest Learning Profile

Students work as part of many different groups depending on the task and/or content. Sometimes students are placed in groups based on readiness, other times they are placed based on interest and/or learning profile.

Groups can either be assigned by the teacher or chosen by the students. Students can be assigned purposefully to a group or assigned randomly. This strategy allows students to work with a wide variety of peers and keeps them from being labeled as advanced or struggling.

The teacher may assign groups based on readiness for phonics instruction, while allowing other students to choose their own groups for book reports, based on the book topic.

Learning Contracts

Readiness
Learning Profile

Learning contracts begin with an agreement between the teacher and the student. The teacher specifies the necessary skills expected to be learned by the student and the required components of the assignment, while the student identifies methods for completing the tasks.

This strategy:

allows students to work at an appropriate pace;
can target learning styles; and
helps students work independently, learn planning skills, and eliminate unnecessary skill practice.

A student indicates that he or she wants to research a particular author. With support from the teacher, the student determines how the research will be conducted and how the information will be presented to the class.

For example, the student might decide to write a paper and present a poster to the class. The learning contract indicates the dates by which each step of the project will be completed.

Choice Boards

Readiness Interest Learning Profile

Choice boards are organizers that contain a variety of activities. Students can choose one or several activities to complete as they learn a skill or develop a product.

Choice boards can be organized so that students are required to choose options that focus on several different skills.

After students read Romeo and Juliet, they are given a choice board that contains a list of possible activities for each of the following learning styles: visual, auditory, kinesthetic, and tactile. Students must complete two activities from the board and must choose these activities from two different learning styles.
* More information about grouping strategies can be found in Strategies to Improve Access to the General Education Curriculum. Available at http://www.k8accesscenter.org/training_resources/curricular_materials.asp